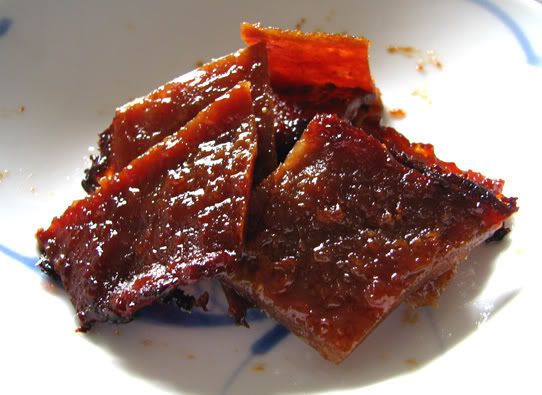 Ingredients:
1 kg minced meat (just a bit fatty would be good, don't use lean meat unless you want to chew on leather later....anyway, the fat would be drained out int he cooking process)
2.5 tbsp fish sauce
1.5 tbsp light soy sauce
2 tbsp dark soy sauce
1.5 tbsp lee kum kee char siew sauce
2 tbsp cooking wine (hua tiao jiu or even XO will do)
1 1/4 cup brown sugar
1 small drop mei kwei lu rice wine (rose essence rice wine)
Method:
Mix all of the above and stir in 1 direciton till the meat becomes gooey (this is the painful method....use a mixer and just mix till it becomes gooey...very fast)
On a baking tray lined with parchment baking paper, roll out the meat mix to 2 mm thick. (put another piece of baking paper on top and use a rolling pin, after rolling remove the baking paper on top)
Bake in an oven on 125 degrees celsius for 25 mins.
Bake further at 180 degrees for 20 mins (make sure it doesn't get too chao da at this stage) (Use the turbo fan for this baking if your oven has fan, this will help to dry tthe bak kwa)
Turn over the bak kwa and bke another further 15 mins at 180 degrees celsius.
Tips:
There will be liquid and oils coming out from the bak kwa while it is baking, remove only if the liquid is overwhelmingly alot. Oherwise, the oil is retained so it is sorta pan fring the bak kwa in its own oil, you can drain it when its done.
After cooking, you can grill the bak kwa on a charcoal bbq for better flavour.
Store when it has cooled down....Its better to cool the cooked bak kwa in front of a fan so it bcomes drier which stores better.
If you add too much mei kwei lu, you will end up with lup cheong instead...lol
Home made bak kwa~
Current Mood:

accomplished